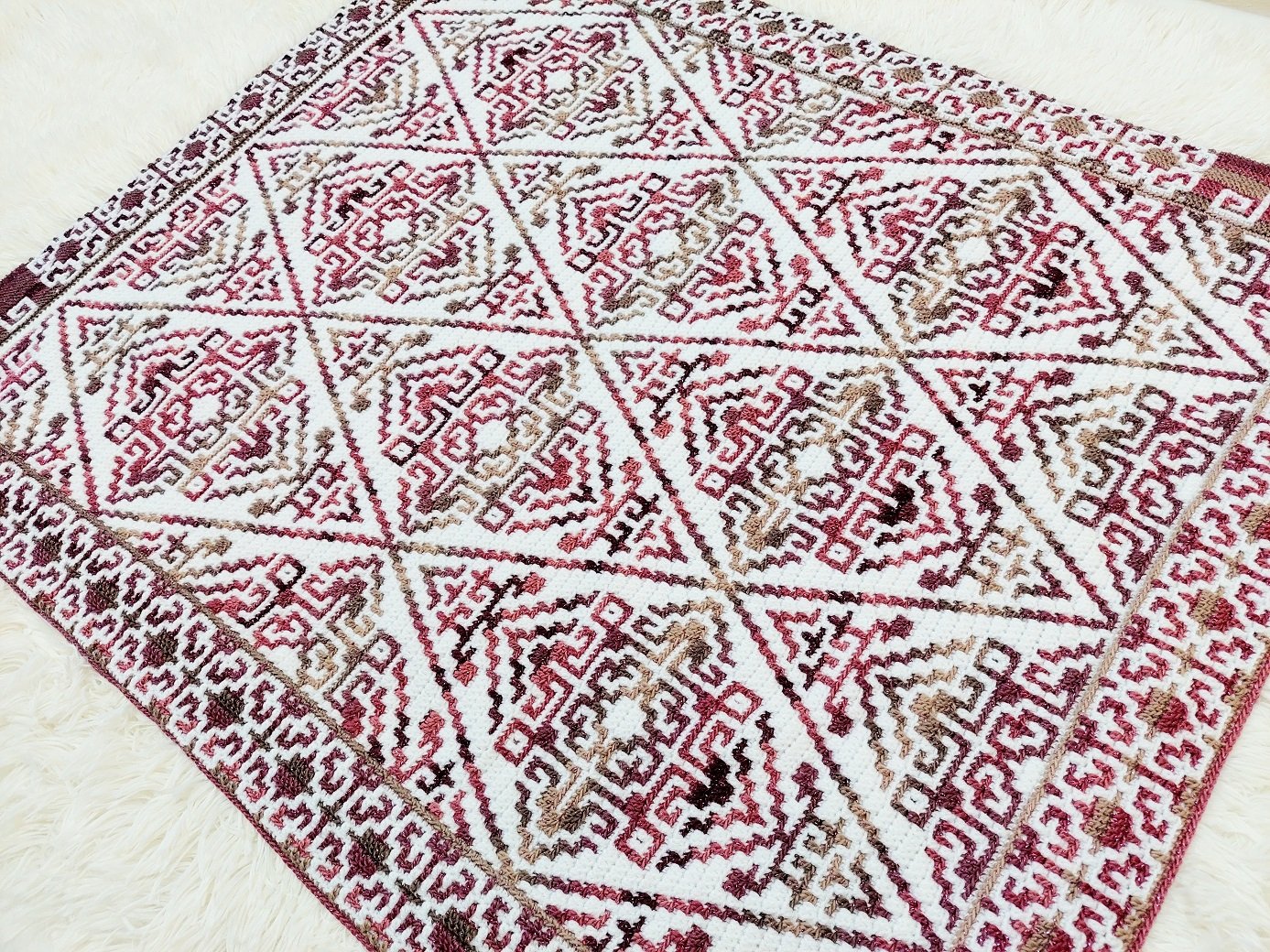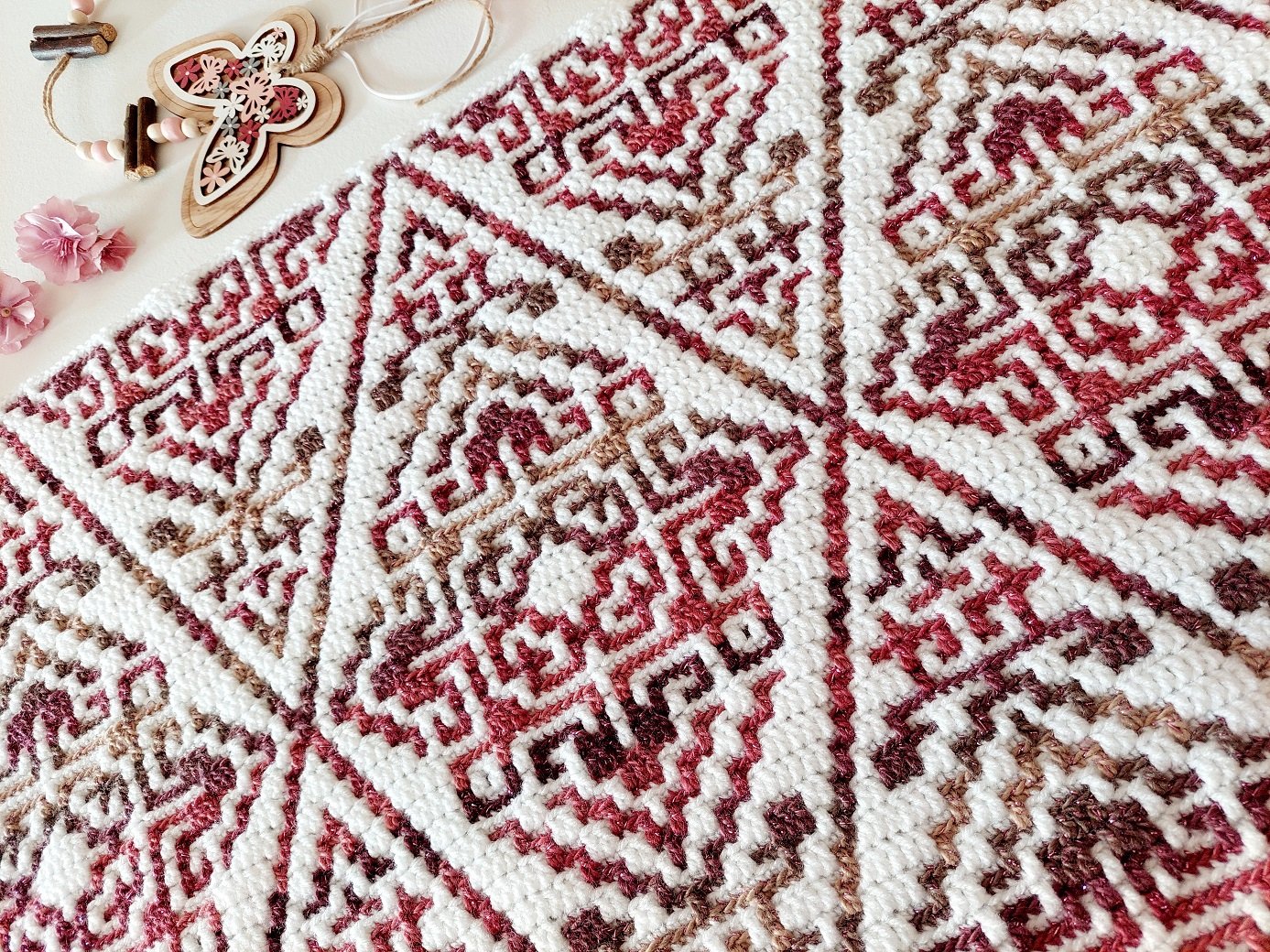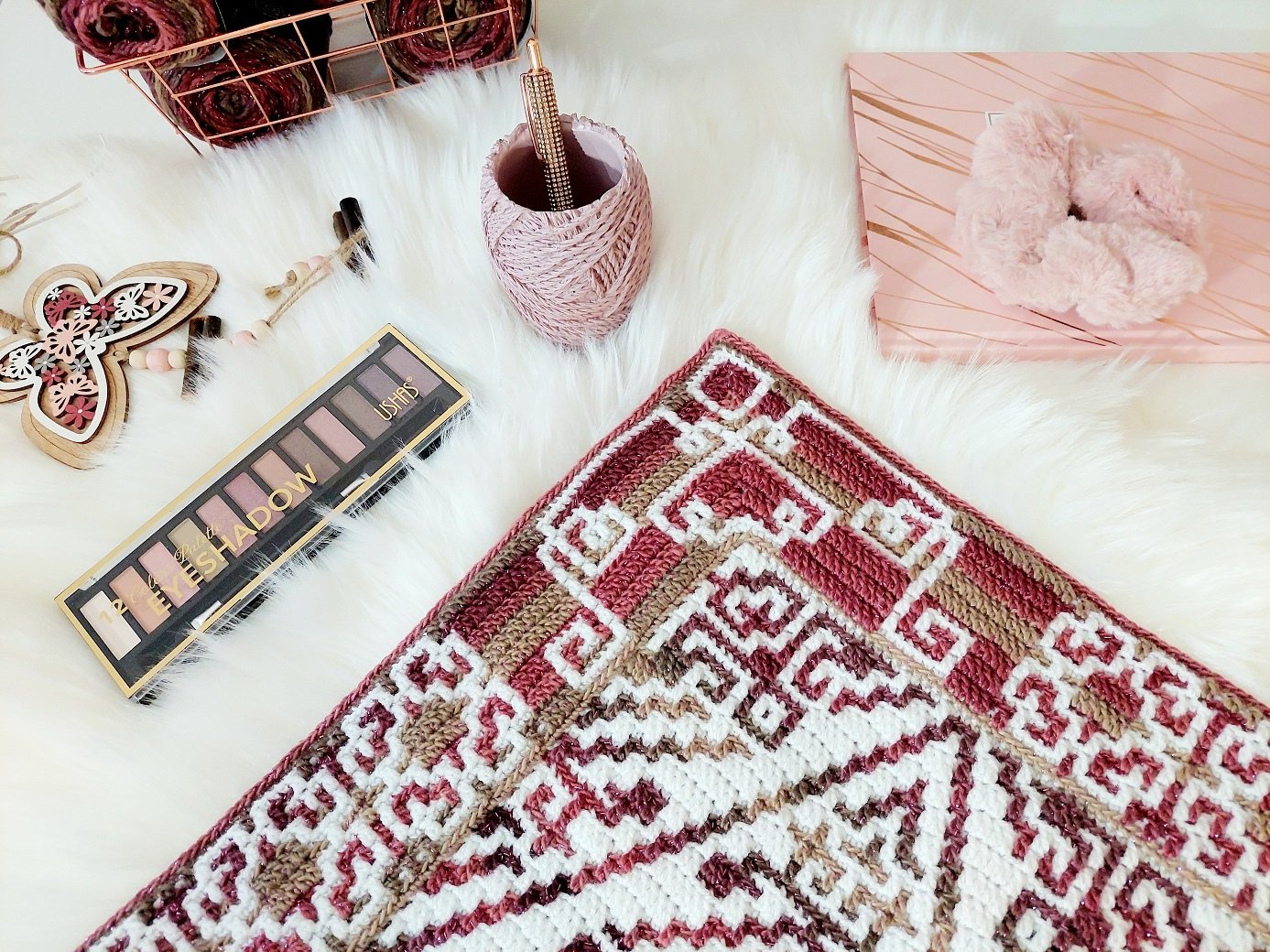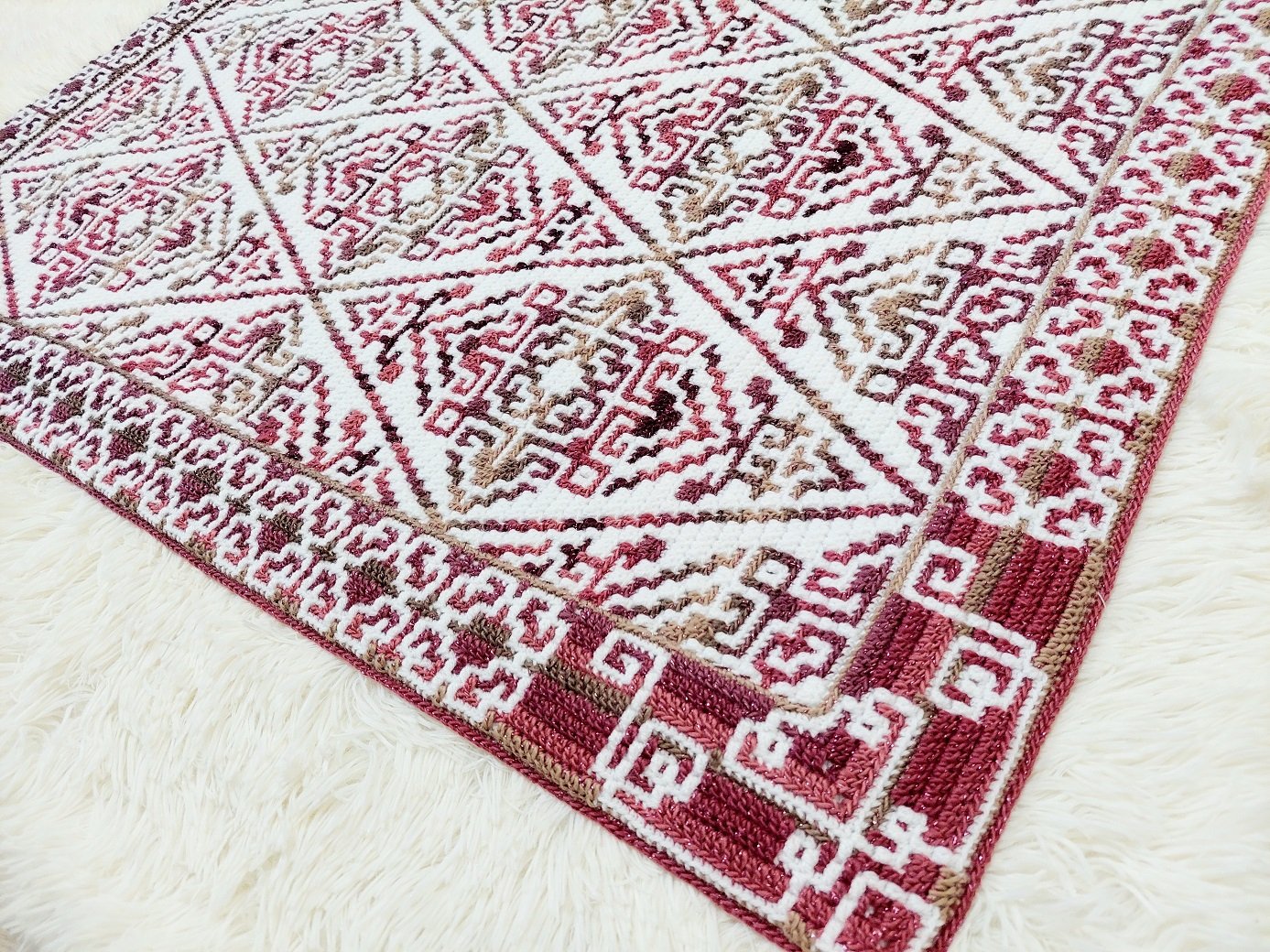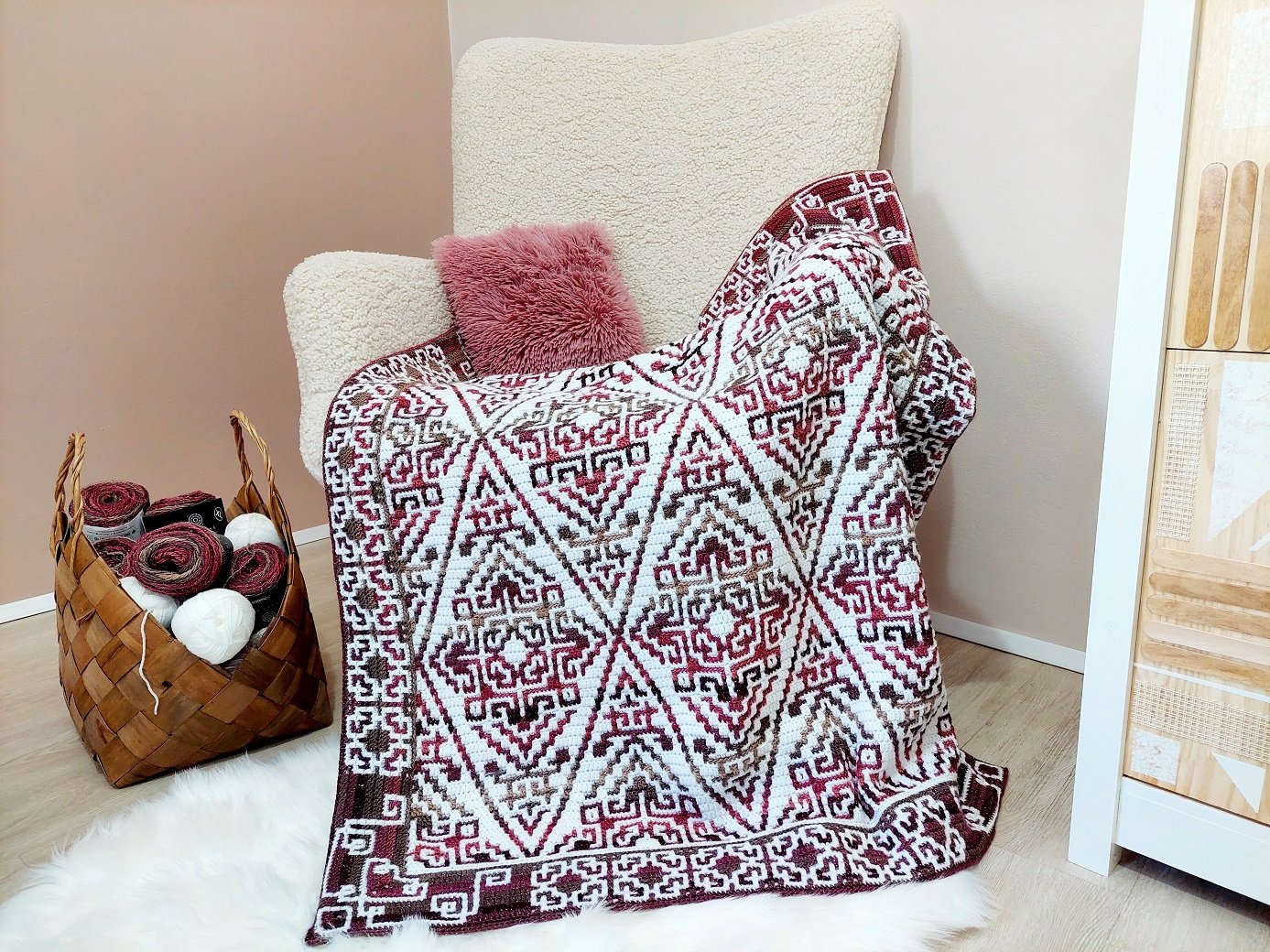 Aztecana. Overlay mosaic crochet in rows pattern
On Sale
The AZTECANA pattern reflects all the beauty of the ancient arts. Precise details, shapes and colors – pure harmony and a breathtaking result! Let's create our beauties! 
Using this pattern, you can create as large a project as you want by working as many repeats as you want in width and in height. 
EXPERIENCE LEVEL: advanced beginner
LANGUAGES & TERMINOLOGY: English (US); English (UK), Dutch, German and Spanish
TECHNIQUE: overlay mosaic crochet in rows 
PATTERN REPEAT: x48+3
GAUGE: 10x10 cm / 4x4" – 16 sts x 21 Rs in blsc
PATTERN FILE SIZE: 22-23 pages (depends on language)
THE PATTERN INCLUDES:
links to introductory information about mosaic crochet basics and video tutorials
chart with marked Xs and legend
written pattern 
chart and written border pattern
pattern layout with and without border
STITCHES & ABBREVIATIONS: 
ch/chs (chain/chains), st/sts (stitch/stitches), R/Rs (row/rows, in the border: round/rounds), stsc (standing single crochet), sc (single crochet), blsc (back loop single crochet), flsc (front loop single crochet), fldc (front loop double crochet), sp/sps (space/spaces). 
MOSAIC CROCHET BASICS & USEFUL LINKS:
If you are new to overlay mosaic crochet and need help in understanding and reading charts, this 
video tutorial might be helpful: https://youtu.be/DIJBQRrL99o. 
A written guide of the overlay mosaic crochet basics plus bonus pattern "Booming Mosaic": https://ravel.me/booming-mosaic.  
IMPORTANT! If you plan to work a double border, read the instructions and watch the video tutorial 
"Double Border. Easy Start. Three Magic Steps" before you start your project: 
https://ravel.me/double-border-easy-start-three-magic-steps 
https://youtu.be/mctYBKni1P0. 
More useful links: https://bebablanket.com/useful-links. 
YARN, HOOK & APPROXIMATE PATTERN SAMPLE SIZE: 
Yarn weight #3 (DK/light)
Hook size Clover Amour, 4 mm (G)
Yarn
Color A (background color): Hobbii, We Love Yarn, Classic Acrylic, white (01)
Color B (pattern color): Hobbii, Universe XL, Cassiopeia (19)
Sample size, shape & amount of yarn working 3 repeats in width x 2 repeats in height (including the border)
Rectangle. Width 87 cm/34.2" x height 107 cm/42.1" (including 8 cm/3.1" border)
Color A: 306 g, 920 m / 1006 yds
Color B: 332 g, 732 m / 800 yds
Please note that I switched colors A and B for the border
Border (front part):
Color A: Hobbii, Universe XL, Cassiopeia (19) 180 g, 396 m / 433 yds
Color B: Hobbii, We Love Yarn, Classic Acrylic, white (01) 94 g, 282 m / 309 yds
Border (back part):
Color B: Hobbii, We Love Yarn, Classic Acrylic, white (01) 170 g, 510 m / 558 yds
You can use any yarn, colors & appropriate hook size that suits your project and create as large/small a project as you wish by adjusting the number of repeats in width and in height. 
You can find more pattern samples on Ravelry: https://www.ravelry.com/patterns/library/aztecana/people
This pattern was created by BebaBlanket
July, 2022 
This pattern was tested by: Mirjam Annaars, Dana L. Bouchard, Eva Vozis, Sonia Larsen, Vilma Cipriani-Ramsey, Tania Leis, Carol Brunquell Sutcliffe, Judy Leacock.
Translators:
Dutch: Mirjam Annaars
German: Heidrun Liegmann
Spanish: Elizabeth Pintado-Díaz, Lynda Hernández and Teresa Sánchez
Thank you for checking out this pattern! You have a great taste!
You can use the pattern to create any item you want and sell your finished item if you wish, but you have no right to claim that this pattern is created by you, nor may you sell the pattern or share the file of the written pattern and/or videos for free. You have no right to create a video tutorial for this pattern or translate it to other languages without my written permission.
I don't accept returns, exchanges, or cancellations and refunds are not applicable for the digital sales. But please contact me if you have any problems with your order.