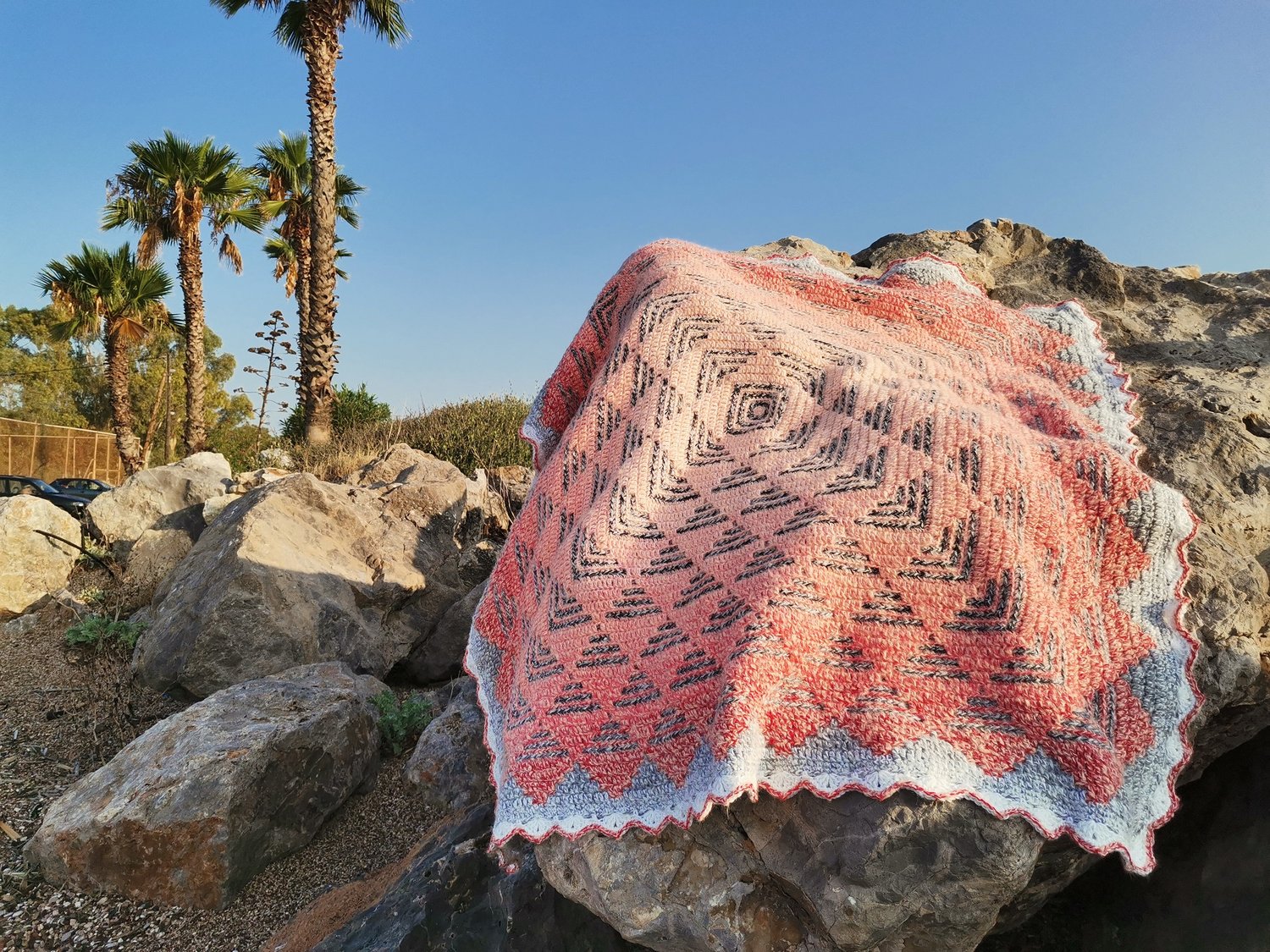 Valle de la Luna. Overlay mosaic crochet in rounds pattern
On Sale
€3.50
Modern geometric mosaic crochet pattern VALLE DE LA LUNA inspired by the Valley of The Moon in Atacama allows you to create any size square blanket (afghan), cushion cover, bag or even poncho.
It is recommended to use two or more contrasting same weight yarn colors. The chart is created and pattern written using 2 colors.
You can alternate sections working one time solid triangles in one color, one time solid triangles in both colors. In the chart section with solid triangles in both colors is marked in green border. The pattern sample was created by adding this variation to the last repeat only.

EXPERIENCE LEVEL: Confident beginner.
LANGUAGE & TERMINOLOGY: English, US
TECHNIQUE: Overlay mosaic crochet in a round

THE PATTERN INCLUDES:
• mosaic crochet basics, tips & tricks
• link to a short video tutorial Tips & Tricks working Valle de la Luna pattern
• written pattern
• chart & layout
• pictures

STITCHES & ABBREVIATIONS:
mr (magic ring/circle), ch/chs (chain/chains), st/sts (stitch/stitches), R/Rs (round/rounds), sc (single crochet), blsc (back loop single crochet), fldc (front loop double crochet).

COLORS, COLOR CHANGING:
The pattern sample was created using two gradient yarn colors changing them on each round.

YARN, HOOK & APPROXIMATE SIZE:
VALLE DE LA LUNA pattern sample was created using the following yarn:
Color A: Stenliyarn Donut, 84302 (coral)
Color B: Stenliyarn Donut, 84501 (white/black)
Yarn weight #4 (aran/worsted)
Fiber content 50% Cotton, 10% Mohair, 20% Wool, 20% Acrylic
Hook size Clover Amour, 5 mm (H)
Sample size, shape & amount of yarn
Square, 106 cm / 42" from side to side
Color A : 900 m, 550 g / 985 yrds, 19.4 oz
Color B: 870 m. 530 g. / 950 yrds, 18.7 oz

You can use any yarn & appropriate hook size that suits your project.