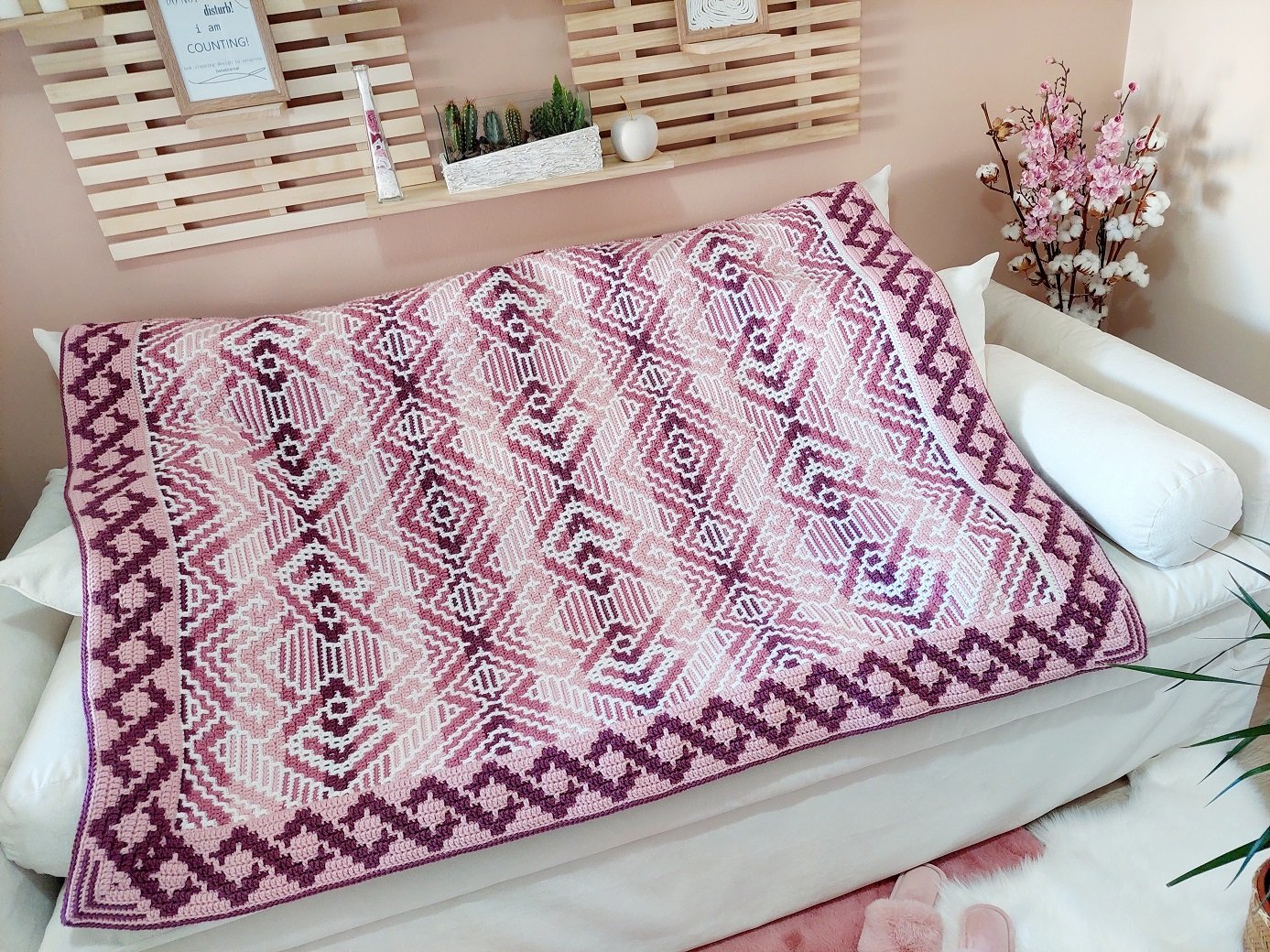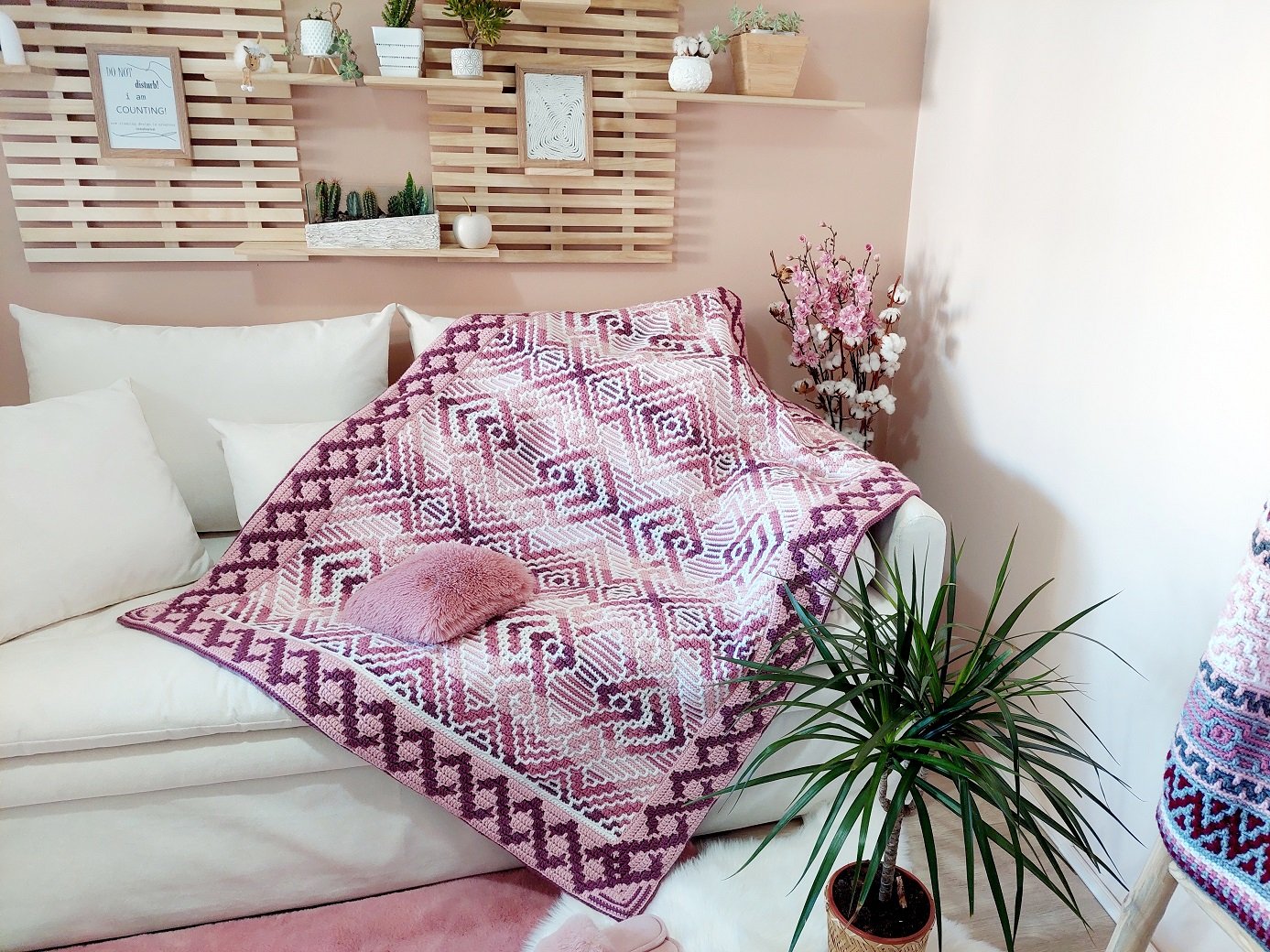 Happy Together. Overlay mosaic crochet in rows pattern
On Sale
The pattern HAPPY TOGETHER symbolizes new beginnings, people joined together, couples, families and love! It's a perfect design for a wedding, anniversary or as a housewarming gift. The pattern is repeated so your project can be as large/small as you wish!
EXPERIENCE LEVEL: advanced beginner
LANGUAGES & TERMINOLOGY: ENGLISH US, ENGLISH UK, DEUTSCH, ESPAÑOL, FRANÇAIS, NEDERLANDS
TECHNIQUE: overlay mosaic crochet in rows 
PATTERN REPEAT: x72+3
GAUGE: 10x10 cm / 4x4" – 13 sts x 15 Rs in blsc
PATTERN FILE SIZE: 19-20 pages (depends on language)
THE PATTERN INCLUDES:
* links to introductory information about mosaic crochet basics and video tutorials 
* chart with marked Xs and legend 
* written pattern
* border pattern chart and written pattern). NOTE: the border pattern works with any number of repeats in width, but in height it works only with an odd number of repeats: 3, 5, 7… 
* color placement to create an ombre effect 
* pattern layout
STITCHES & ABBREVIATIONS (US terms): 
ch/chs (chain/chains), st/sts (stitch/stitches), R/Rs (row/rows, in the border round/rounds), stsc (standing single crochet), sc (single crochet), flsc (front loop single crochet / in the border only), blsc (back loop single crochet), bl (back loop), fldc (front loop double crochet), sp/sps (space/spaces). 
YARN & HOOK: 
Yarn weight #4 (worsted/medium) 
Hook size Clover Amour, 6 mm (J)
Yarn
Color A (background color) We Love Yarn, Classic Acrylic Aran, color White (01)
Color B1 (pattern color) We Love Yarn, Classic Acrylic Aran, color Powder blush (17)
Color B2 (pattern color) We Love Yarn, Classic Acrylic Aran, color Dusty rose (18)
Color B3 (pattern color) We Love Yarn, Classic Acrylic Aran, color Mauve (19)
PATTERN SAMPLE SIZE & YARN AMOUNT:
Sample size, shape & amount of yarn (width 2 repeats x height 3 repeats)
Rectangle. Width 121 cm/47.6" x height 158 cm/62.2" (including 12 cm/4.7" border) 
A: 630 g, 1104 m / 1208 yds 
B1: 198 g, 348 m / 381 yds 
B2: 330 g, 579 m / 633 yds 
B3: 126 g, 222 m / 243 yds 
Border (front part): 
Background color B1: only front part 324 g, 567 m / 620 yds
Pattern color B3: front part 265 g, 464 m / 508 yds, 
Border (back part)
Color B3 433 g, 758 m / 830 yds 
You can use any yarn, colors & appropriate hook size that suits your project and create as large/small a project as you wish by adjusting the number of repeats in width and in height. 
This pattern was created by BebaBlanket
July, 2022 
This pattern was tested by: Kim Lategan, Dana L.Bouchard, Bronwyn Armstrong Gray, Mirjam Annaars, Simone Howes, Carol Brunquell Sutcliffe, Margriet Tebbertman.
Translators:
Dutch: Mirjam Annaars
German: Heidrun Liegmann
Spanish: Elizabeth Pintado-Díaz, Lynda Hernández and Teresa Sánchez
French: Johanne Rousseau, Katherine Martinet