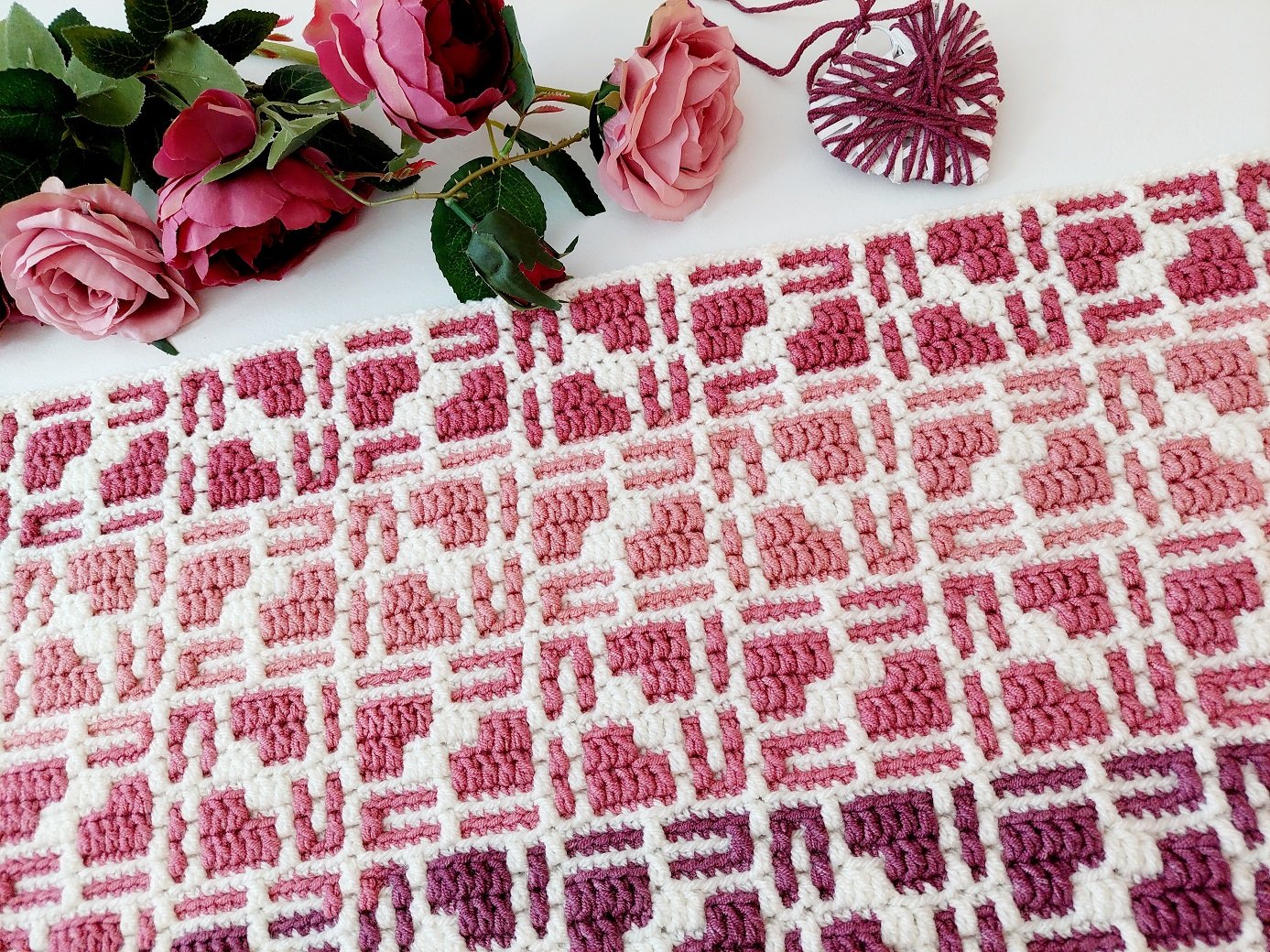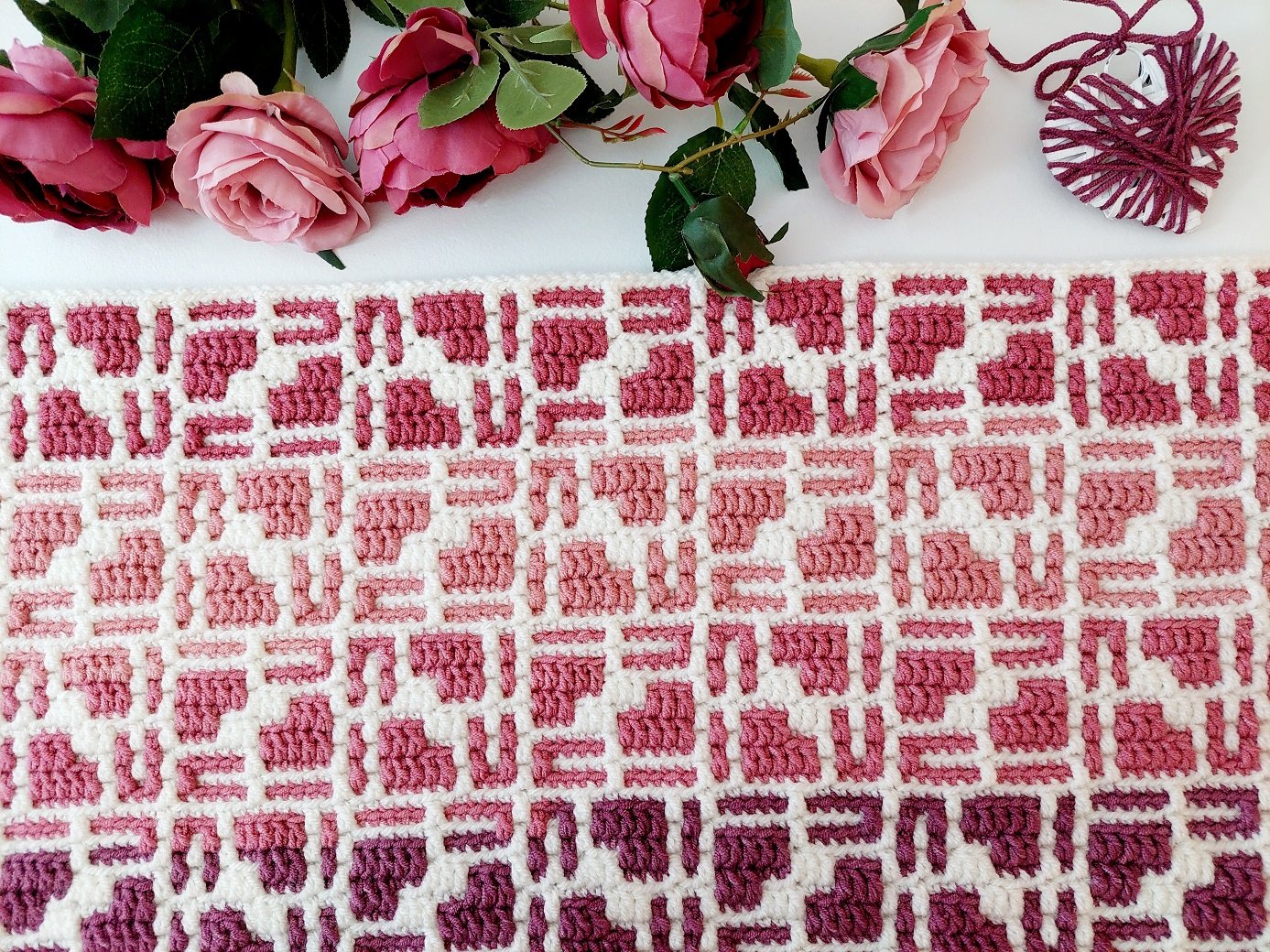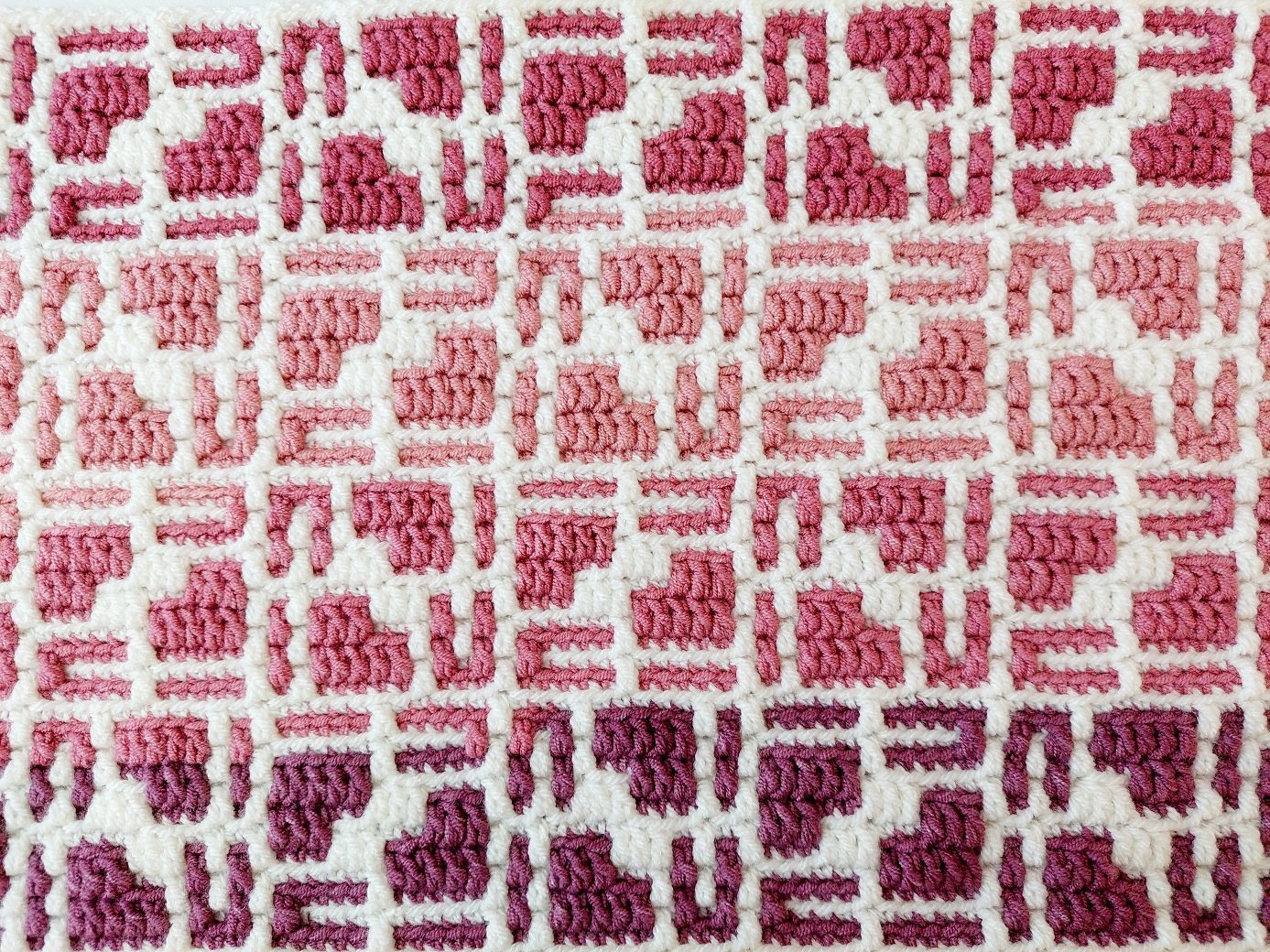 Love Puzzle. Overlay mosaic crochet pattern
On Sale
LOVE PUZZLE is a fun pattern to play with your mind and imagination! Do you like puzzles? Can you read what is hidden in this design? Just a perfect pattern for little ones and grown-ups who have a sense of humor and love puzzles! The pattern is repeated so your project can be as large/small as you wish!
EXPERIENCE LEVEL: advanced beginner
LANGUAGES & TERMINOLOGY: English (US); English (UK), Dutch, German and Spanish
TECHNIQUE: overlay mosaic crochet in rows 
PATTERN REPEAT: x24+3
GAUGE: 10x10 cm / 4x4" – 12 sts x 14 Rs in blsc
PATTERN FILE SIZE: 9 pages
THE PATTERN INCLUDES:
links to introductory information about mosaic crochet basics and video tutorials
chart with marked Xs and legend
written pattern
pattern layout 
STITCHES & ABBREVIATIONS (US): 
ch/chs (chain/chains), st/sts (stitch/stitches), R/Rs (row/rows), stsc (standing single crochet), sc (single crochet), blsc (back loop single crochet), bl (back loop), fldc (front loop double crochet). 
MOSAIC CROCHET BASICS & USEFUL LINKS:
If you are new to overlay mosaic crochet and need help in understanding and reading charts, this 
video tutorial might be helpful: https://youtu.be/DIJBQRrL99o. 
A written guide of the overlay mosaic crochet basics plus bonus pattern "Booming Mosaic": https://ravel.me/booming-mosaic.  
IMPORTANT! If you plan to work a double border, read the instructions and watch the video tutorial 
"Double Border. Easy Start. Three Magic Steps" before you start your project: 
https://ravel.me/double-border-easy-start-three-magic-steps 
https://youtu.be/mctYBKni1P0. 
More useful links: https://bebablanket.com/useful-links. 
YARN, HOOK & APPROXIMATE PATTERN SAMPLE SIZE: 
Yarn weight #4 (worsted/medium) 
Hook size Clover Amour, 5 mm (H)
Yarn
Color A (background color) Paintbox Simply Aran, paper white (200)
Color B (pattern color) Ice Yarns, Cakes Aran, (fnt2-56547)
Sample size, shape & amount of yarn (width 5 repeats x height 2 repeats)
Rectangle. Width 76 cm/29.9 in x height 30 cm/11.8 in 
A: 122 g, 224 m / 245 yds
B: 120 g, 216 m / 236 yds
For a small baby blanket you will need about 3 times the amount of yarn I used for my pattern sample.
You can use any yarn, colors & appropriate hook size that suits your project and create as large/small a project as you wish by adjusting the number of repeats in width and/or in height. 
This pattern was created by BebaBlanket
July, 2022 
This pattern was tested by: Carol Brunquell Sutcliffe, Dana L.Bouchard, Eva Vozis, Mirjam Annaars, Judy Leacock, Tokkie Diamond, Vilma Cipriani-Ramsey.
Translators:
Dutch: Mirjam Annaars
German: Heidrun Liegmann
Spanish: Elizabeth Pintado-Díaz, Lynda Hernández and Teresa Sánchez
Thank you for checking out this pattern! You have a great taste!
You can use the pattern to create any item you want and sell your finished item if you wish, but you have no right to claim that this pattern is created by you, nor may you sell the pattern or share the file of the written pattern and/or videos for free. You have no right to create a video tutorial for this pattern or translate it to other languages without my written permission.
I don't accept returns, exchanges, or cancellations and refunds are not applicable for the digital sales. But please contact me if you have any problems with your order.