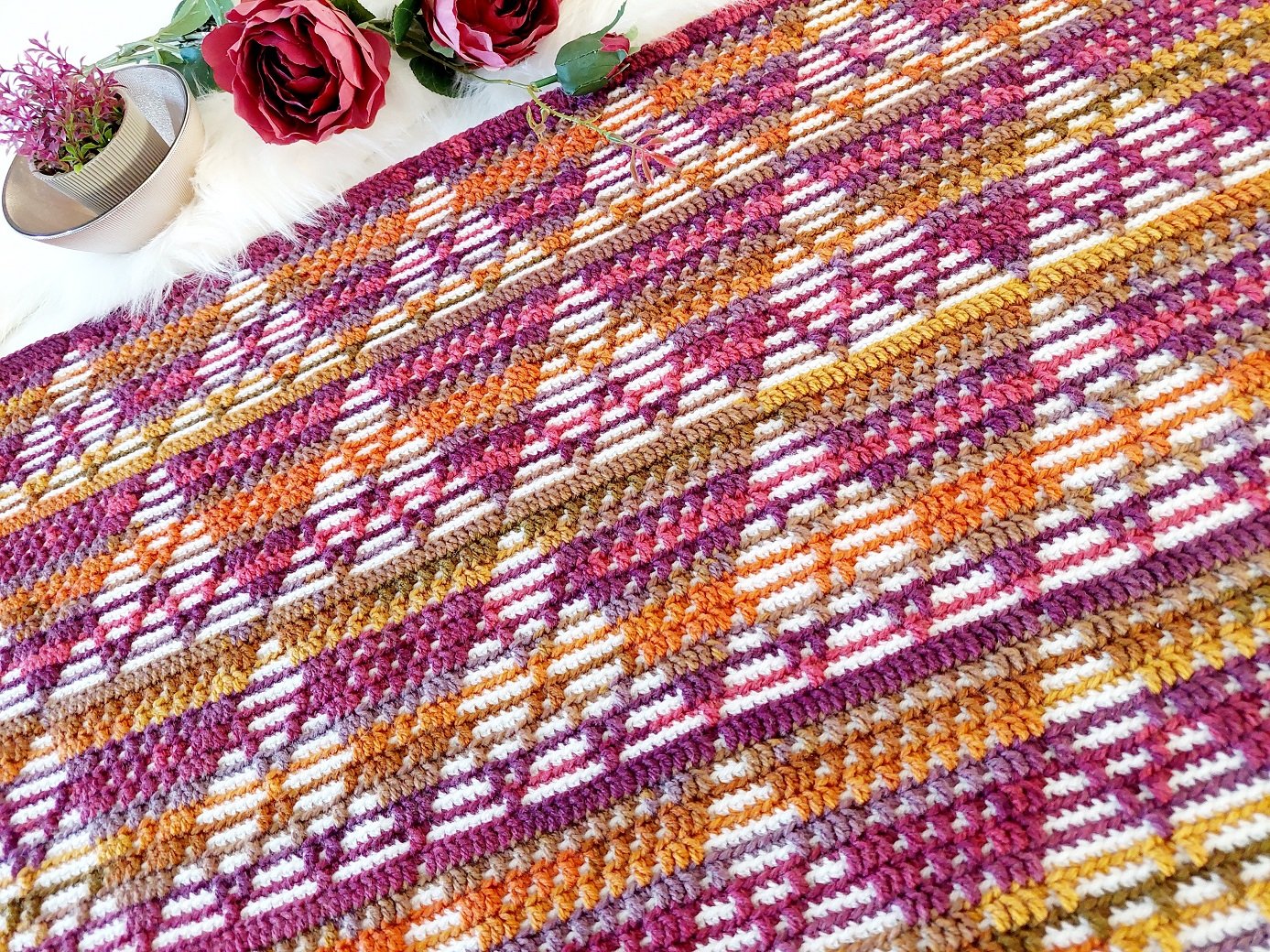 Mosaic Bermuda. Overlay mosaic crochet in rows pattern
On Sale
Mosaic crochet pattern MOSAIC BERMUDA is easy, fast and relaxing to work on. Using this pattern, you can create a project of any type and size you wish. The pattern has an amazing texture and it looks fantastic in one color as well, which means – no cutting yarn!
EXPERIENCE LEVEL: Advanced beginner
LANGUAGE & TERMINOLOGY: English, US
TECHNIQUE: overlay mosaic crochet in rows
PATTERN REPEAT: 24+3
PATTERN FILE SIZE: 8 pages
THE PATTERN INCLUDES:
●        links to overlay mosaic crochet basics;
●        charts with marked Xs and legend;
●        written pattern;
●        pattern layout;
●        brief guide how to work the pattern in one color (overlay crochet), see page 7.
STITCHES & ABBREVIATIONS:
ch/chs (chain/chains), st/sts (stitch/stitches), R/Rs (row/rows), stsc (standing single crochet), sc (single crochet), blsc (back loop single crochet), flsc (front loop single crochet), fldc (front loop double crochet), fpdc (front post double crochet).  
MOSAIC CROCHET BASICS & USEFUL LINKS:
●      If you are new to overlay mosaic crochet and need help in understanding and reading charts, this
video tutorial
might be helpful.
●     
A written guide of the overlay mosaic crochet basics
. The members of my "Crochet patterns by BebaBlanket" group on Facebook have 100% discount to get this guide and the pattern "Booming Mosaic" for free.
●      IMPORTANT! If you plan to work a double border,
read the instructions
and watch the
video tutorial
"Double Border. Easy Start. Three Magic Steps" before you start your project
●     
More useful links
YARN, HOOK & APPROXIMATE PATTERN SAMPLE SIZE:
Yarn weight #3 (light/DK)
Hook size Clover Amour, 4 mm (G)
Yarn
Color A: Hayfield Spirit DK, color 0405
Color B: Iceyarns Classic DK, color white 70000
Sample size, shape & amount of yarn without border
Rectangle: width 8 repeats x height 1 repeat
width 96 cm x height 25 cm / 37.8" x 9.8"
Color A: 90 g, 311 m / 340 yds
Color B: 70 g, 200 m / 219 yds
For a baby blanket without a border approximately width 96 cm x 125 cm (37.8 in x 49.2 in) you will need 5 times more yarn than I used for my small sample.
You can use any yarn, colors & appropriate hook size that suits your project. You can find more pattern samples on
Ravelry
This pattern was created by BebaBlanket
August, 2021
This pattern was tested by: Mirjam Annaars, Suyan Fang, Jennifer Le, Vilma Cipriani-Ramsey, Eva Vozis, Rita Miller, Judy Leacock, Belinda Lee Vrinzen, Teju Kiran, Olga Crous, Elaine Strong, Helena Sobolevskaya, Marlena Cieciora-Szyda, Rachel Wilson, Diane Green.  Thank you girls for an amazing job!
Thank you for checking out this pattern! You have a great taste!
You can use the pattern to create any item you want and sell your finished item if you wish, but you have no right to claim that this pattern is created by you, nor may you sell the pattern or share the file of the written pattern and/or videos for free. You have no right to create a video tutorial for this pattern without my written permission.
I don't accept returns, exchanges, or cancellations and refunds are not applicable for the digital sales. But please contact me if you have any problems with your order.