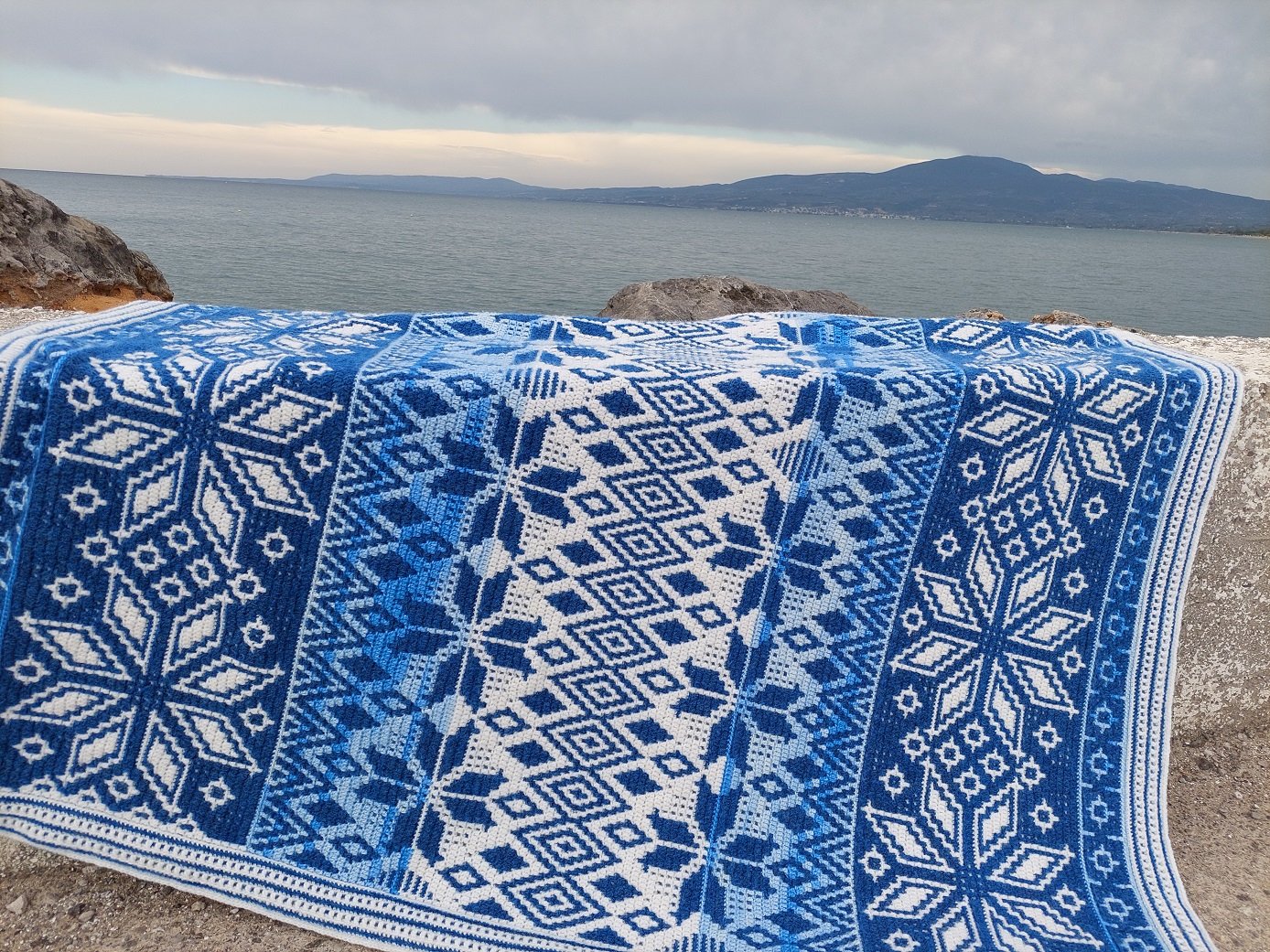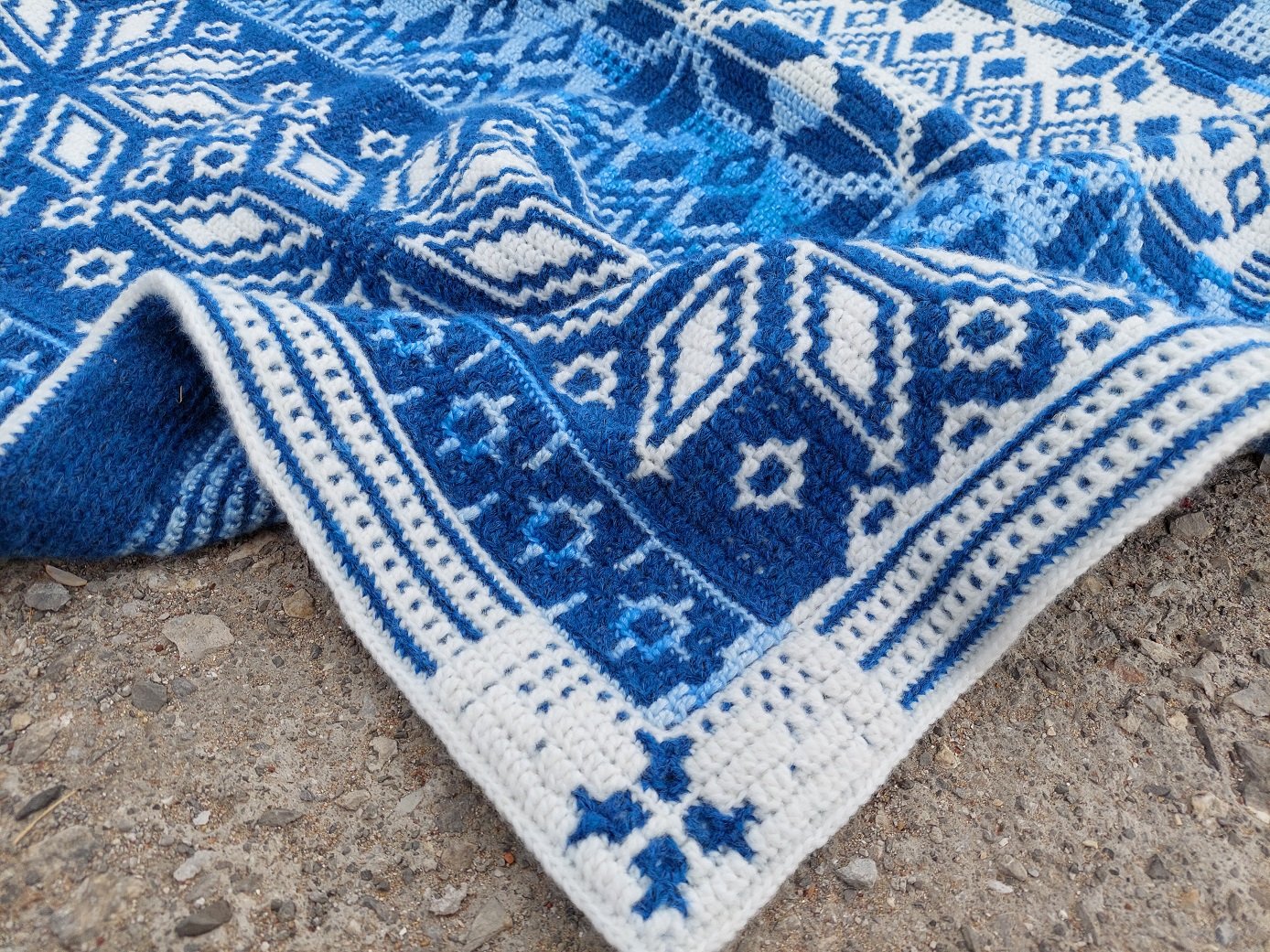 Glorious Christmas. Overlay mosaic crochet in rows pattern
On Sale
The Scandinavian style overlay mosaic crochet pattern GLORIOUS CHRISTMAS will add an absolutely breath-taking coziness to your holiday season! You can combine the designs in any order you want to create your own unique project! Wouldn't it be amazing to have a set of bed throw, cushion covers and an area rug? Light some candles, let the Christmas music play and enjoy the magical Christmas season with your beloved ones!
This design matches perfectly with the pattern
GLORIOUS BLOOM
, which is a center out motif worked in rounds.
EXPERIENCE LEVEL: intermediate (the pattern is detailed and has a wide repeat)
LANGUAGE & TERMINOLOGY: English, US terms
TECHNIQUE: overlay mosaic crochet in rows
PATTERN REPEAT: 120+5
PATTERN FILE SIZE: 27 pages
THE PATTERN INCLUDES:
links to introductory information about mosaic crochet basics, and video tutorials;
chart for every design with marked Xs (3 designs) and legend;
written pattern for every design combined into Layout 2;
detailed information about yarn amounts used for every design;
border: chart and written pattern;
3 optional layouts. See pages 24, 25, 26.
STITCHES & ABBREVIATIONS:
ch/chs (chain/chains), st/sts (stitch/stitches), R/Rs (row/rows), stsc (standing single crochet), sc (single crochet), blsc (back loop single crochet), bl (back loop), fldc (front loop double crochet).
If you are using my "Double Border. Easy Start. Three Magic Steps" technique to make a double border around your project, the first stitch (st) on every row (R) is always a standing center sc (stcsc), the last stitch (st) on every row (R) is always a center sc (csc). You will find more information in the file "Double Border. Easy Start. Three Magic Steps" (see the paragraph "Mosaic crochet basics & useful links").
MOSAIC CROCHET BASICS & USEFUL LINKS:
If you are new to overlay mosaic crochet and need help in understanding and reading charts, this
video tutorial
might be helpful .
A written guide of the overlay mosaic crochet basics plus bonus pattern "Booming Mosaic"
(updated! English and German now available)
IMPORTANT! If you plan to work a double border,
read the instructions
and
watch the video tutorial
"Double Border. Easy Start. Three Magic Steps" before you start your project (updated! English and German now available)
More useful links
YARN, HOOK & APPROXIMATE PATTERN SAMPLE SIZE:
Yarn weight #4 (medium/aran)
Hook size Clover Amour, 4.5 mm (7)
Yarn
Color A: YarnArt Allegro, white, code 700
Color A1: Ice Yarns Picasso, blue shades, code 68985
Color B: YarnArt Allegro, dark blue, code 709
Sample size, shape & amount of yarn (width 2 repeats, Layout 2) including the border
Blanket: Rectangle. Width 124 cm/48.9" x height 141 cm/55.5" (without border)
Color A: 466 g, 1352 m / 1479 yds
Color A1: 282 g, 649 m / 710 yds
Color B: 714 g, 2070 m / 2264 yds
Border: 5 cm/1.97"
Front part:
Color A: 145 g, 421 m / 461 yds
Color B: 75 g, 218 m / 238 yds
Back part:
Color B: 170 g, 493 m / 540 yds
NOTE. For this pattern, both colors A(A1) and B were used as the pattern color and as the background color - they are changed for the 3 different designs included in the pattern.
Design No.1: A(A1) pattern color, B background color
Design No.2: A pattern color, B background color
Design No.3: B pattern color, A(A1) background color
You can use any yarn, colors & appropriate hook size that suit your project.
This pattern was created by BebaBlanket
May, 2022
This pattern was tested by: Mirjam Annaars, Eva Vozis, Tania Leis, Jennifer Le, Vilma Cipriani-Ramsey, Carol Brunquell Sutcliffe, Rita Miller, Kim Lategan, Simone Howes, Yvonne van Zijl.
Thank you for checking out this pattern! You have a great taste!
You can use the pattern to create any item you want and sell your finished item if you wish, but you have no right to claim that this pattern is created by you, nor may you sell the pattern or share the file of the written pattern and/or videos for free. You have no right to create a video tutorial for this pattern without my written permission.
I don't accept returns, exchanges, or cancellations and refunds are not applicable for the digital sales. But please contact me if you have any problems with your order.